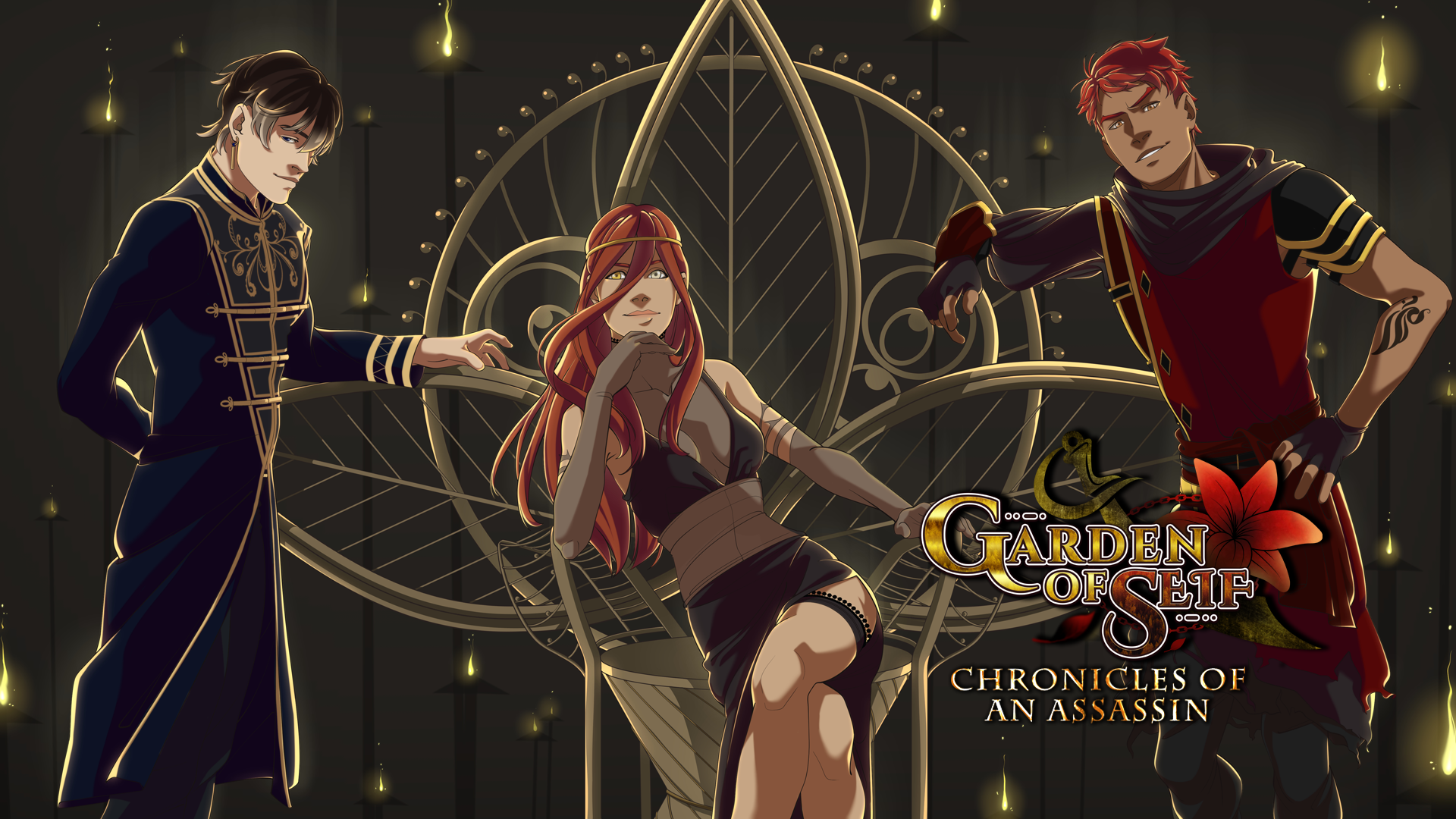 Garden of Seif: Chronicles of an Assassin (Demo)
Garden of Seif, a Visual Novel [Demo Launch]
---
Hello everyone!
I'm pleased to announce the release of our demo for Garden of Seif! Read below for more information about the game.
Details:
This is primarily an adventure story with slow-burning romance. Two love interests. The full game will have four different endings, including one true ending.

The Summary:
An undercover assassin seeks to exterminate the Imperials that have darkened her past, along with the help of her anonymous partner Ace. Things take a turn for the worse when she discovers a guild of assassins is after her. Two mysterious men offer her their helping hand, but both have secrets that could lead her deeper into trouble.

The Story:

This story-rich visual novel blends war action-drama with romance in the world of Aradan, inspired by the ancient Persian Empire. Twenty years after the Golden Shift Rebellion, the Setsun Empire seeks to reclaim its territory, including the isolated citadel Nohiria. Iris Lapis, a half-blind belly dancer from Nohiria, seeks to avenge the death of her beloved. She dances at an Imperial tavern, The Spitting Cobra, her playground for hunting Imperial men. There she meets Seth Salazar, an Imperial assassin, claiming to be able to lead her to the rest of her marks. Another man that goes by the alias Dust Hunter, an agent looking for answers regarding Iris' mysterious partner, claims he can protect her from the guild that threatens to kill her.
What's in the Demo?
The demo is approximately 30 minutes in length, depending on how fast you read. It's comprised of fully colored CGs, SFX, VFX, music, 3D camera movement, GUI, the "Journal" which contains the lore of Aradan. The demo is the entirety of the first chapter, titled Dancing with Daggers. The game is divided into chapters, and we currently have about ten chapters written. In total we predict there to be about twenty chapters. Since this game is still in development so certain aspects of the demo are currently unavailable, but will be once the full release is launched. Currently we are only publishing the windows&linux version of the demo. Mac is available for those who are interested in testing. In the long-run, we do plan to be available for mobile as well.
There is currently no set date for the full release, but we are working around the clock to get this project done and tell our story. We are looking forward to feedback from players. Up until this point, we have been 100% self-funded and will continue to be so until further notice. This has kept us at a slower, but reasonable pace. A little more than half of the artwork for the entire game is completed, but we still have a ways to go.
From the Team:
Our vision for Garden of Seif (GoS) was to illustrate a unique world with fully fleshed out characters, and an impactful and suspenseful storyline. While there is romance in the story, the primary focus of this story is adventure and world-building. Players follow the story from a female perspective, in the eyes of Iris Lapis. There are six other characters within the story, all of which have an extensive background story. Two of the male characters' have a route that Iris can pursue, depending on the choice that Iris decides towards the end. There will be four endings.
Overall, we are thrilled to tell our story. We are active on Twitter and LemmaSoft currently, so follow us for updates.
- Duchess (aka. Suna, Project Leader & Writer for Garden of Seif)
**Note: Some items have been updated to match present day changes to avoid any confusion.

Files
GardenofSeifDemo-1.2-pc.zip
239 MB
Apr 03, 2020
Get Garden of Seif: Chronicles of an Assassin (Demo)